The Awesomeness of SSH Tunneling
I have to say it; SSH tunneling is freaking amazing. Here is a small list of some cool things you can do:
Perhaps I'll talk about everything else later, but dynamic port forwarding through SSH is a very easy way to get a secure web connection to a remote server. Proxies can be a bit of a pain in the ass to configure; using SSH there is barely any configuration.
Here is an example:
If you look at the man page it explains the -D flag and what it does:
To use it, you just need to configure your favorite browser (I use Firefox) to use a SOCKS5 proxy running at localhost. Once you've done that, you have a nice and secure connection to any server that you would normally have access to through SSH.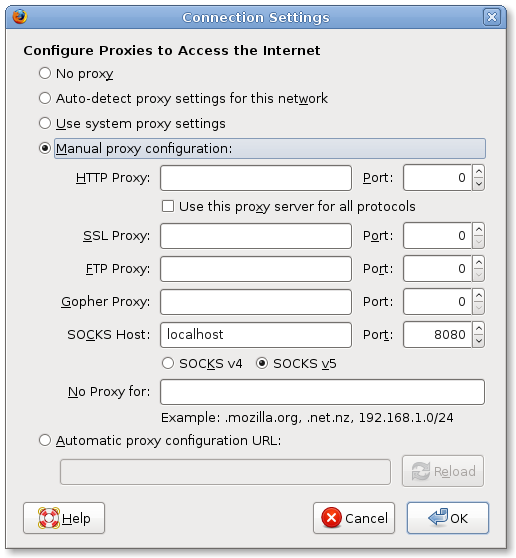 You can test this by turning off the proxy setting, checking your external IP address and then turning the proxy configuration back on. Awesome, right?? If I'm working on a remote server and I need access to some local resources there, this is also a very useful tool. I used to run a minecraft server and accessed my remote McMyAdmin web instance without exposing it to the internet.
Linux is awesome! (Sorry for you windows users D:)
---